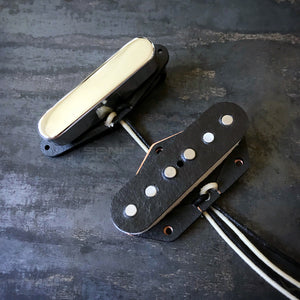 Bygone Tele Set
Regular price $230.00 Sale
The first pickups to inhabit one of Leo's "Spanish guitars." This is part of our Bygone™ Series of vintage inspired pickups. 
Wound to vintage specs by hand, just like when they were made in Fullerton back in the day, with every component carefully chosen for its accuracy and authenticity. From the heavy formvar wire and the special cast magnets to the vulcanized fiberboard and copper plated steel baseplates, these pickups give you everything you want from a vintage Tele set.  
We chose a reverse wind, reverse polarity for this set as we felt it gave more options. They are also wax potted to minimize microphonics. If you would like a same wind, same polarity set or maybe an unpotted set for some crazy reason, just let us know when you order. 
Make sure to choose which neck pickup mounting option you would like. 
Neck 7.5k DCR
Bridge 6.3k DCR
Vintage Output.