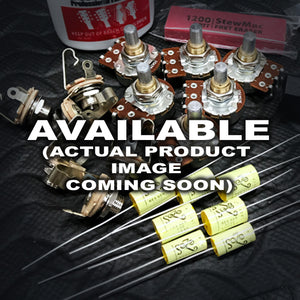 Mississippi Monarch - Dogear P90
Regular price $240.00 Sale
From his band's appearance at the second night of Woodstock to his venerable hit "Mississippi Queen" in 1970, Leslie West has embodied the dynamic richness of the P90 pickup.
This is our nod to Mr. West's music and the smokey, thick tone he was able to wrestle from his Les Paul Jr and Sunn Coliseum PA amp. 

Dual, special cast, AlNiCo A5's in the neck and AlNiCo A2's in the bridge pickup, individually charged with a special poly coated copper wire, all nickel baseplates and vintage specific screws add to their authentic tone. 
This set is reverse wired, reverse polarity for hum cancellation in the middle position.

We recommend 500k pots.

Neck 6.4k DCR
Bridge 8k DCR

Vintage Output.