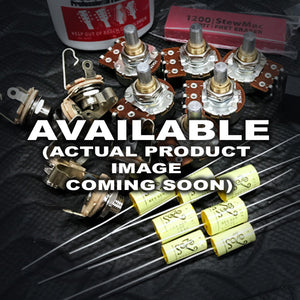 J Bass Pre-Wired Harness with Series/Parallel Push Pull
Regular price $83.00 Sale
Available now!


This version of our Pre Wired harnesses adds a series/parallel 250k push/pull pot so you can have the standard J Bass pickup parallel sounds, plus, the beefier with more midrange thicker sound of the series connection. This should be standard on all J Basses!
Make sure to select your output jack selection and be sure to tell us the make, model and manufacture country of your bass in the order notes! (Also if it is left handed.)

Bourns 250k, Solid, Short Shaft x2

Bourns 250k, Solid, Short Shaft Push Pull x1
.047uf SoZo 500v NexGen Mustard Vintage x1
1/4" Switchcraft #11 Monojack x1
or
Pure Tone Mono Jack x1
Gavitt Pushback Wire Black 18" 
Gavitt Pushback Wire White 18"

Diagram

*Will require USA standard sized knobs and may require drilling
3/8" holes in the control plate for the 
pots, if it was manufactured outside of the US.